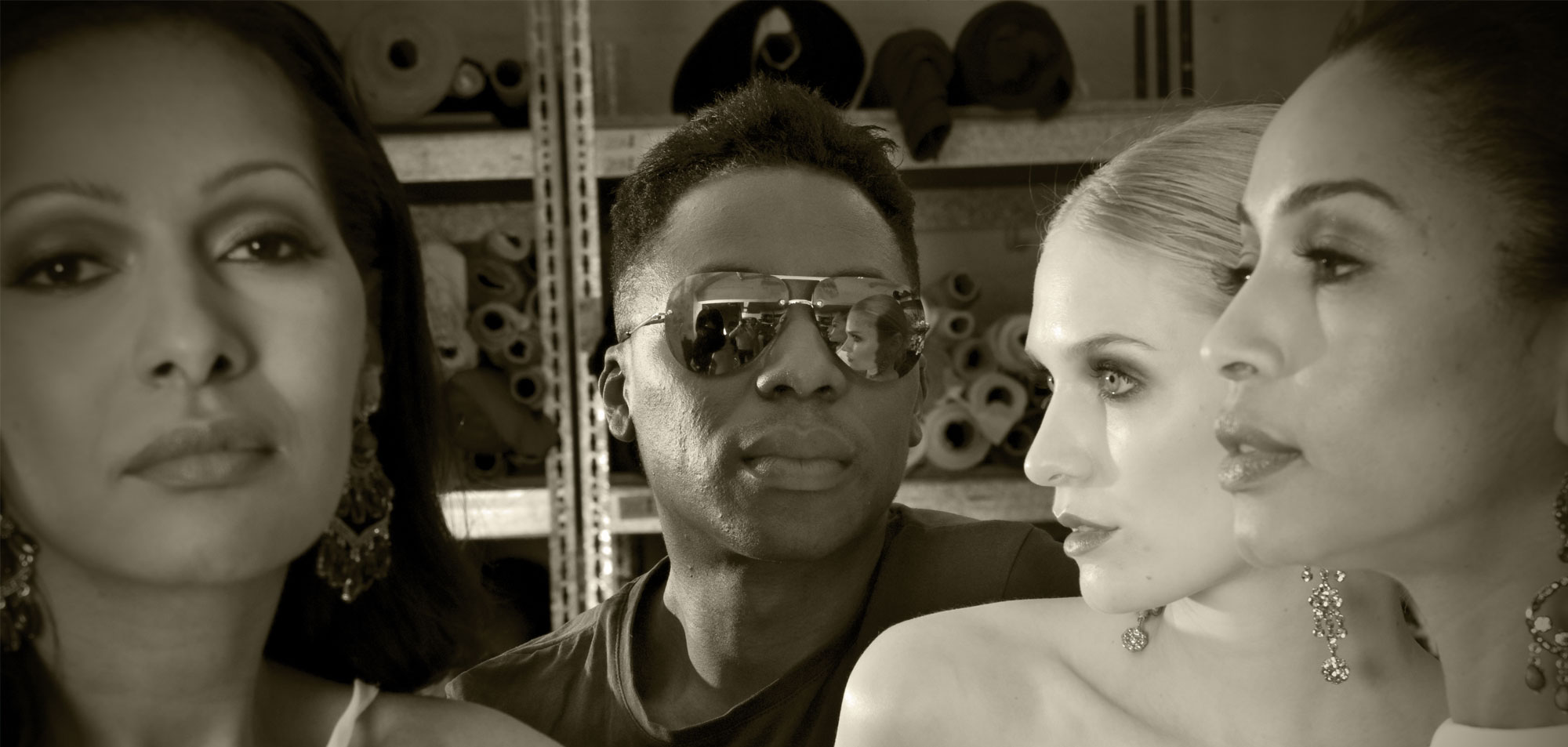 Ade Bakare Couture was established in 1991. Thereafter, Ade started selling his collection twice a year (Spring/Summer and Autumn/Winter). His clients were boutiques situated in various parts of England, Scotland and the Channel Islands such as Chic of Hampstead, Adele Davis of Bond Street and Lucienne Phillips of Knightsbridge and Amersham.

He made great waves with his bridal collection and was selected by Bride magazine as one of London's most influential designers. Due to his enormous popularity, he has showcased his collections in Morocco, Capetown, Mozambique, London, New York and Paris where he was given an award.

Ade became involved in another aspect of the fashion Industry when he created the perfume, Breeze, in 1998. This scent was inspired by his childhood days spent along the breezy West African coast of Lagos, Nigeria. He followed up the perfume with the introduction of Bakare Breeze, a moderately-priced diffusion line which offers a collection of bridal dresses to cater for the design-conscious bride, award-winning signature jersey dresses teamed with ethnic textile adire as well as a series of kaftans, boubous and bubas and iros in silk and chiffon.

Ade Bakare's designs have been described as classic with a touch of modernity using fabrics such as wool, silk, lace and crèpes but he is currently celebrated for his gazar and organza sweep coats which are both ultra-feminine and luxurious.
1991 - With a loan from the PYBT Ade Bakare set up the label Ade Bakare Couture, selling to boutiques and stores in England such as Lucienne Phillips of Knightsbridge, London. Adela Davis, old Bond str, London. Chic of Hampstead, London. Ambers of Amersham Buckingham-Shire, England. The foundation, Guildford, England.
1992 - Ade Bakare shows his collection for Autumn/Winter 1993/94 at the premiere collections NEC Birmingham, England.
1993 - Acquires manufacturers to produce the Ade Bakare collection in Lyon, France and sells the collection to more outlets across England.
1994 - Selected as one of the up-coming British designers to represent Britain at the "Best of British" expo in Vienna, Austria.
1995 - Designed 1st bridal outfit for a client which was a success and launched the start of the bridal wear collection.
1996 - Ade Bakare Couture moves to Mayfair, London on Grosvenor street.
1997 - Commissioned by DBI communication to design the costumes for the leading actress Caroline Chikezie in the film SPIN.
1998 - Ade Bakare wins in the "hearts desire" category by brides and setting up home OK magazine features an outfit worn by Alice Patten, daughter of Hong Kong Minister.
Ade Bakare designed the ensemble coat and dress for Jocelyn Burton the celebrated jeweler for her exhibition at Asprey and Gerrard at their Bond Str flagship store.
Royal Ascot. The Sunday Times feature Ade Bakare's designs on its front cover.
Special recognition recognition, African Business Man of the Year 1998 presented by Nat west and Western Union, London, England.
1999 - Ade Bakare launches his fragrance "BREEZE" a floral perfume at the Mayfair residents' ball at the Grosvenor hotel in Mayfair in December 1st.
Bliss bridal magazine features brides wearing trousers designed by Ade Bakare Couture.
2000 - The Ade Bakare Couture collection for Spring/summer 2001 was featured in the Black Beauty Hair Dec edition.
2001 - Royal correspondent (England), Jennie Bond mentions Ade Bakare as one of her favorite designer in the Telegraph Sept 29th.
Commissioned by Lady Caroline Pearson to design an outfit for Royal Ascot.
2002 - Invited by Princess Adelaide of African Majesty to show designs in her fabrics (Kente Oke) at the British parliament in London.
Featured in the French fashion magazine in the duty Edition of Amina.
2003 - Invited to Nigeria as a judge for the Ecofest event in Asaba, Delta State Nigeria by Chief Sunny Odogu alongside Valerie Campbell, John Fashanu and Doroty Otteeh.
2004 - Ade Bakare becomes the official designer to the 1st Lady of Nigeria Mrs. Stella Obasanjo.
2005 - Invited to show collection at the Cape Town fashion week South Africa. June .
2006 - Reuters feature Ade Bakare's Royal crown inspired outfit on the front cover of the News-paper cape Argus – July 13 South Africa.
Ade Bakare Couture open its Lagos boutique at the Sandiland Arcade in Victoria Island, Lagos, Nigeria.
Ade Bakare Couture stages its 1st dependent fashion show at the Lagos Lagoon in Victoria Island on the 3rd of March.
2007 - Ade Bakare starts the Young Designer's Creative Competition (Y DCC) which debuted at the Civic Center, Lagos Nigeria on the 20th of May 2007.
Young Designer's Creative Competition featured in True Love and Genevieve fashion magazines August / September and July Edition respectively.
Invited to show at the Durban fashion week in South Africa Spring Summer 2007.
2007 - A retrospective of Mr Ade Bakare's design (1991 – 2007) is shown at the Terra Culture gallery for a week 10th – 16th of December it featured a fashion show.
Won International Designer of the Year City People Award Nigeria.
2008 - Commissioned by Virgin Nigeria to design the new Uniforms for the Air line crew which featured designs in green and Red.
Custome designer for film by Steve Gukas "A place in the Stars".
Won again the International Designer of the Year City People Award Nigeria.
2009 - 2nd Young Designers Creative Competition at the New Federal Hotel Lagos Nigeria on the 8th of March.
Special recognition award, City People Award Nigeria.
Recognition of Change Award, Just U Magazine / Lagos State.
Fashion Category Award Federal Ministry of youth and Sport for empowering youths in Nigeria.
Invited to Maputo, Mozambique in December as a Judge for the Mozambique fashion week.
2010 - Facilitated the 3rd Y D C C (Young Designers' Creative Competition) at the Wheatbaker Hotel, Lagos, Nigeria.
Silverbird TV feature on fashion in Nigeria since the 60s with footage from our fashion archives.
The launch of Ade Bakare Couture Design Interiors.
2011 - The renowned artist, Diana Byrne, orders and stocks the label's line of silk adire scarfs at her boutique in Frome, Somerset, England.
Ade Bakare Couture becomes the official designer to the First Lady of Rivers State, Nigeria, Mrs Judith Amaechi.
Acquires a German agent, Monika Kisterman, for the label's fashion interests in Europe.
Designed the female staff uniforms for the Wheatbaker boutique hotel in Ikoyi, Lagos.
Invited to set up a fashion programme by 1st lady of rivers state Mrs Judith Amaechi under E S I, empowerment support initiative for semi skilled fashion entrepreneurs.
2012 - Invited to show the couture collection and received an award at the Place Vendôme in Paris, France.
Signed up by the American online fashion company Cityblis in New York.
Commissioned by an oil company to design the interiors of six flats in Lekki, Lagos, Nigeria for its expatriate staff.
Designed the tour de force collection for summer 2012 called Sahara.
Designed the staff uniforms for the popular grill restaurant, Orela, in Ikoyi, Lagos.
2013 - Designed dresses for the team of ladies from the London Film Academy for the Cannes film festival, France.
Appointed by the Ogun state Government under the auspices of the Commissioner for Culture, Mrs Yewande Amusan, to promote the Nigerian fabric, Adire as an international textile.
Professor Jean Borgatti of the University of Boston, America/University of Benin, Nigeria, interviews us and writes a paper on our use of Adire and its modernisation.
Launch of the Ade Bakare Signature fragrance.
2014 - Invited and sponsored by Ogun State to show and promote Adire at the African International Fashion week in Lagos at the Eko Hotel, Lagos.
Featured in British Vogue (March edition) as one of the designers to patronise.
Designed and styled the costumes for the African classics music section of the popular MTN Project Fame series and gave a master class lecture for the contestants.
Invited to show at the Native and Vogue Fashion Show in Port Harcourt, Rivets State, Nigeria.
Showed at the African Fashion Week in London, England, at the Olympia Exhibition Centre.
Presentation of the label's Designs and Giving awards with business manager, Sunny Okonkwo, at the Nollywood awards ceremony, Intercontinental Hotel, Lagos.
Presented the label's Summer 2015 Meliandou Collection at the GTB Lagos Fashion and Design Week at the Federal Palace Hotel, Lagos.
Presentation of awards at the Eloy Awards Ceremony at the Intercontinental Hotel, Lagos.
Invited to show the Meliandou Collection at the African International Fashion Week at the Oriental Hotel, Lagos.